I believe people make decisions about other people based on this super rough formula I totally made up:
It's whatever information they have in front of them, plus the trust factor (what you are willing to share with them and the likelihood they will get more information in the future) and physical proximity, plus shared tendencies and hobbies, multiplied by their individual life experience (shared life experience can make you much more likely to get along), divided by differentiating characteristics and values. What makes people different? If you are someone who puts themselves out in the world, has a vocal opinion, acts differently than the majority of society (for example, if you don't drink),  dresses differently, has taken an unconventional life path, experienced a specific type of trauma etc. etc. You're going to be different and therefore less likely to be able to connect with just anyone.
Obviously this is not very scientific, but the reality is that we are constantly processing some variation of this formula when we come across new people.
My name is Raegan and I am in rehab from being an over the top people pleaser. I come by it honestly — I get it from my mother (she works in sales and it made her exceptionally good at her job).
It's a characteristic that I'm working very hard to overcome and I know I'm not the only one who a) deals with this and b) finds it hard to swallow, especially when I look at the ways it's done more harm than good over the years.
I find the formula above freeing. It reminds me that there's just no way, based on all these factors, that we are going to emotionally connect with a good chunk of the people we meet — it's just a fact of life. It also reminds me to take off the tophat (this isn't an audition, Raegan) so people can see the real me. Because the formula doesn't work when you change to fit the mould of what you think the other person wants.
Some people don't struggle with this. If you are one of those people please SHOW YOURSELF IN THE COMMENTS.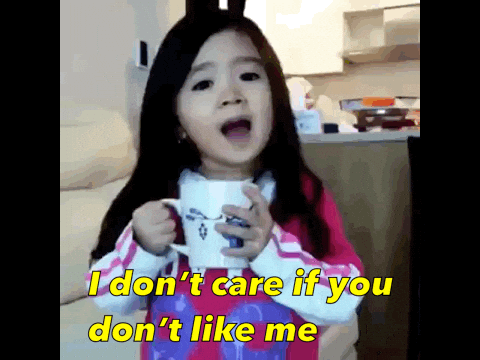 EASIER SAID THAN DONE
So how did I (collectively: we) get to this place where I (we) care so much? Based on research, it looks like fear, anxiety and pressure play a big role, which isn't very surprising.
Pressure….
To be likeable and nice.
To appear as though you have a squad* or a lot of friends.
To feel accepted (which is why being different can be so damn hard).
We've all heard the phrase "nobody likes a people pleaser." So why are there so many of us?
Short answer: we are hardwired to belong, so don't feel too bad.
"The need to belong, also often referred to as belongingness, refers to a human emotional need to affiliate with and be accepted by members of a group.

The need to belong involves more than simply being acquainted with other people. It is instead centered on gaining acceptance, attention, and support from members of the group as well as providing the same attention to other members." (Full article here)
If there's something I've learned from reading 'Braving the Wilderness,' by Brené Brown, it's that belonging begins with ourselves. It really starts and ends there.
"Stop walking through the world looking for confirmation that you don't belong. You will always find it because you've made that your mission. Stop scouring people's faces for evidence that you're not enough. You will always find it because you've made that your goal. True belonging and self-worth are not goods; we don't negotiate their value with the world. The truth about who we are lives in our hearts. Our call to courage is to protect our wild heart against constant evaluation, especially our own. No one belongs here more than you."
― Brené Brown, Braving the Wilderness: The Quest for True Belonging and the Courage to Stand Alone
You are not for everyone, and you will not belong everywhere but that's a good thing. You deeply deserve to be appreciated for who you are, and celebrating the fact that you are not for everyone is an extension of that.
REJECTION SENSITIVITY
This is hard to admit, but I know the pain of what happens when your opinion of yourself is based on other people's opinions of you. Essentially, it means your self-esteem is as fragile as a sandcastle and some mean kid can come and kick it over at any time. I spent all my teen years bending over backward to be liked. I gave everything to everyone and as a result I got dumped, treated like a doormat (you don't exactly command respect when you are like this) and had one person flat out say they didn't want to be my friend anymore. I definitely developed rejection sensitivity as a result.
Taking baby steps to get to know myself and show my true self to people, knowing full well that I could be rejected, is one of the scariest things I've ever done in my adult life. For me, part of working through my rejection sensitivity is celebrating the fact that I'm not for everyone in a healthy, glass half full kind of way that honours and shows love & gratitude to my true self. 
It doesn't mean I suddenly don't give a shit about how I make people feel. It means I can say no and not feel an overwhelming sense of guilt. It means not chasing people down who don't want me. It means not going over the top when it comes to simple apologies. It means taking the power back and not letting other people dictate how I feel about myself. It means I'm no longer apologizing for who I am as a person.
There's always room to grow and I know I'm not perfect, but if you don't like the real me, you can pretty much kick rocks.
"Taking ownership of your own fears and anxieties is the first step toward improving your relationships. Rather than expecting others to heal you, start by healing yourself.

This requires you to take a good look at the anxiety that fuels your neediness and longing for approval. The more you can deal directly with that anxiety within yourself, rather than trying to work it out through relationships, the more you will begin to heal those old wounds." (Full article here)
Every day I accept more and more that I am a serious, opinionated, life-loving, risk-taking, aggressive, acquired taste and I don't need to change who I am to make people like me. I am healing. I am going where I am wanted.
If you feel you are not in a place where you "belong to yourself" yet, as Brené would say, that's ok. Don't blame yourself. It's pretty damn human.
When you aren't sure if you are people pleasing, ask yourself:
Am I being genuine?
Am I working for approval?
Am I being agreeable to avoid conflict?
Am I reacting genuinely, or am I objectively crafting responses?
Am I caretaking, or am I responding truthfully?
SHARING YOURSELF IS SCARY
Here's my question: does the way you are interacting with others honour your sense of self-worth? How committed are you to rebuilding, healing and sharing yourself authentically even when it's scary? Even if you make a commitment to yourself, then stumble or break it, it just means that you are willing to fall, f*ck up, get back up, honour that commitment to yourself and KEEP TRUCKING. Struggling doesn't make you any less strong.
Here's one more Brené quote before I send you on your way:
"True belonging is the spiritual practice of believing in and belonging to yourself so deeply that you can share your most authentic self with the world and find sacredness in both being a part of something and standing alone in the wilderness. True belonging doesn't require you to change who you are; it requires you to be who you are."
― Brené Brown, Braving the Wilderness: The Quest for True Belonging and the Courage to Stand Alone