I have enough exes that they could all get together and make a ska band. I used to be embarrassed about it, but now I know it just means I know better now, so I can do better. I feel like I've experienced it all: getting dumped and having my heart broken, dumping someone, having blowout arguments, being used, trying to have casual sex, getting played out, being an unsupportive significant other, being called horrible things — you name it, I've probably lived it and learned from it.
Taking a step back from dating for last little while has given me a new perspective on certain things and reminded me of others. Millennials are reinventing everything as a generation, including dating. In some ways it's amazing because we have more ways to meet people than ever before, but all those avenues of communication can make us less connected than ever before.
Buckle up. If you are related to me, please, for the love of god don't read this.
Mature themes and swearing ahead, kids.
---
1. Just because someone uses you doesn't make it ok for you to use someone else.
Sometimes when we are hurt we do dumb things because we feel like causing pain will cancel out our pain. Meanwhile, it only makes things SO MUCH WORSE. Nobody wins when you act out of spite, especially not you.
For example, maybe he used you (emotionally, physically) and now you wanna get a baseball bat out and go to town on him like Beyoncé in the Lemonade film but you don't want to reveal your rage and fulfill the "crazy woman" stereotype so you internalize it and take it out on some other unsuspecting guy you find at a bar or on Tinder. *deep breath*
A short-term self-esteem bandaid (in whatever form) won't cover the gaping flesh wound this person left you with. That'll only heal with time, my friend.
2. Stop playing the game of "who can care less about the other person"
Whoever can come away more untouched and unfazed from a one night stand or rejection is supposedly the "winner" of this game people play now.
Casual sex culture is scary because it can harden us and makes us think that it's wrong to have feelings. If we don't want to play the game, we can be harshly judged or cast out. Sometimes we end up participating even when we know it hurts us. I thought about things completely differently after watching Liberated: The New Sexual Revolution, and I still believe that adults are completely allowed to conduct themselves however they want — but this whole "I don't have to show you any respect or treat you as a human" thing is just horrible.
The executive director of the documentary said this in an interview for Bundle Magazine and I think it applies to both genders:
"We live in a world where people wear very scant bikinis just to sell us burgers. And whether we like that or not, we are constantly surrounded by those images. We may be guarding our eyes, but we cannot escape them in culture. We might not be conscious of it, but when we pass a billboard, look at a magazine or turn on the TV, we are being primed to that kind of imagery. That commodifies a human being. It makes them an object. And as soon as we objectify someone, it's a lot easier disrespect them. Or to not see them for the extraordinary creation that they are."

— Sarah-Jane Murray
3. When it comes to anything in the bedroom — ask. Never assume.
I can't believe I have to say this but y'all would be downright SHOCKED at the number of conversations I've had with other women where guys will go to do something in the bedroom without any prior warning or consent and it turns out it's something their partner isn't into. In 2018.
ARGUABLY! THE! YEAR! OF! FUCKING! CONSENT!!!!
GO FIGURE SOMEONE WOULD WANT TO BE WARNED BEFORE ANAL SEX.
If you are scared to communicate or ask someone before you do something that doesn't mean you get to just DO IT. If you don't know someone well and you assume they are down to do something – that doesn't mean you get to just DO IT.
This behaviour isn't gendered by the way. I'm aware that trust, non-verbal communication and being under the influence all play a role in the quality of communications taking place.
People try to argue it isn't sexy to stop and ask something in the heat of the moment but I really don't know what's sexier than safe and consensual intercourse with someone who respects you???
Honestly, Amber Rose said it best when she was on a talk show:
"If I'm laying down with a man — butt-naked — and his condom is on, and I say, 'You know what? No. I don't want to do this. I changed my mind,' that means no. That means f-ing no. That's it. It doesn't matter how far I take it or what I have on, when I say no, it means no."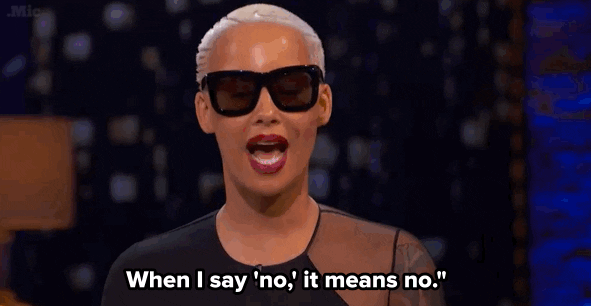 4. Always talk about testing even if it makes you uncomfortable.
Yeah sex is cool but some STIs and STDs can be undetectable friends. I was lucky enough to have a brother who volunteered at Nine Circles educating people about safe sex practices for a long time so I learned a lot — but mostly he told me that most sexually active adults really don't have the right facts about this stuff.
If you can't talk about testing you shouldn't be having sex. Period.
Ask "when was the last time you were tested?" then go from there. It's specific, direct and doesn't pry into past partners.
5. Don't shit talk your ex.
No matter how it ended, it ain't worth it. It reflects more poorly on you than it does your ex. Also, they don't deserve that.
6. A smiling selfie is way cuter than a picture of your penis.
I know what you're thinking: "Raegan, does that really need to be explicitly stated?"
YES. IT DOES. BECAUSE PEOPLE ACT LIKE BARN ANIMALS.
ALSO, INSTAGRAM AND SNAPCHAT EGGED ON THE FUCKBOIS BY MAKING IT SO THAT YOU CAN SEND PHOTOS THAT DISAPPEAR FOREVER.
There are people who like dick pics. They exist, and you may have met one. But there are also many women who don't.
7. Don't string someone along just because you want attention.
I've done this in the past — I'll fully wear it. I'm no saint. But thinking about how my action made the other person feel snapped me out of it. Are we really so used to be stimulated that we can't stand to go unacknowledged for one night? You can't outrun that fear forever.
I get that it's easy to avoid ever feeling lonely with dating apps, DMs and Snapchat BUT dating and messaging people shouldn't be a hobby. If you are only texting someone every Friday night, shut your phone off and go to bed fam. They don't deserve to be used like that, and you've gotta consider taking up a healthier hobby. Like knitting.
8. Do believe that you deserve love.
I can't believe how much of my life I wasted believing I didn't deserve love. How much I believed that I was just lucky someone wanted me. How much I would turn into a puddle of shitty self-esteem when someone even remotely cool, attractive or interesting would pay attention to me. How I would just assume how it was a matter of time before that person found out too much and RAN because apparently I was such a monster???
Imposter syndrome is a bitch.
Speaking from experience, don't waste another minute thinking that. If you're lucky enough to find love, know that it walked into your life because you deserve it. If you can find it in your heart to accept yourself, you're gonna give off this bright shiny light that's gonna pull in some winners. If you haven't found someone, love yourself like your life depends on it (as Jen Sincero says at the end of every chapter of 'You are a Badass').
9. Life is too damn short to not have great sex because you are worrying about how you look.
When people self-objectify it can actually lead to sexual dysfunction…amongst other issues. Translation: the more you see yourself as a sex object, the less fun you tend to have during sex. Sad but true.
We've all felt lackluster about our self image at one time or another (or always, for some people), but it can sideline you from sex for a LONG time if you let it. That breaks my heart. But we gotta stop being so afraid of not looking perfect and embrace imperfect pleasure.
We don't get much for free in this life other than orgasms and library books so make the most of both if you can.
Also:
10. If you ghost someone, you deserve to run into them looking like a potato. The universe is gonna take their side on this one.
There's a way to be polite, direct and kind. Find that way. Use it. Next time, put yourself in the other person's shoes and ask how you want to be treated.
*Mutual ghosting is the ONLY exception to this rule.
11. Put your damn phone away when you are spending time with someone.
Nothing says modern romance on like sitting across the table from someone watching them text someone else who isn't part of the present moment. Not face up on the table, not face down on the table, not in your pocket with vibrate on, not in sight…
A
W
A
Y.
---
Love people. Use things.